(copy 5)
[Translate to English:]
"Taken as a whole the Tanganyikan cichlids represent the most outstanding example of adaptive radiation of all those to be considered." G. Fryer & T. D. Iles (1972)
More than 150 years after the publication of Charles R. Darwin's The Origin, the identification of the processes governing the emergence of novel species remains a fundamental question to biology. How is it possible that two or more biological entities – species – can emerge from one entity, and continue to be distinct even when coexisting in nature? What are the external factors and environmental conditions that promote this process? What are the molecular mechanisms that underlie it? And why is diversity so unequally distributed across the tree of life, with some groups of organisms having diversified in a seemingly explosive manner, while others have remained virtually unvaried over millions of years? Our research focuses on exactly these questions. More specifically, we are interested in the question of how variation in the DNA translates into organismal diversity and in the identification of the patterns and molecular mechanisms that underlie adaptation, evolutionary innovation, and diversification. The main model systems in our lab are the adaptive radiations of cichlid fishes in East Africa, of Antarctic notothenioid fishes, and of three-spine sticklebacks.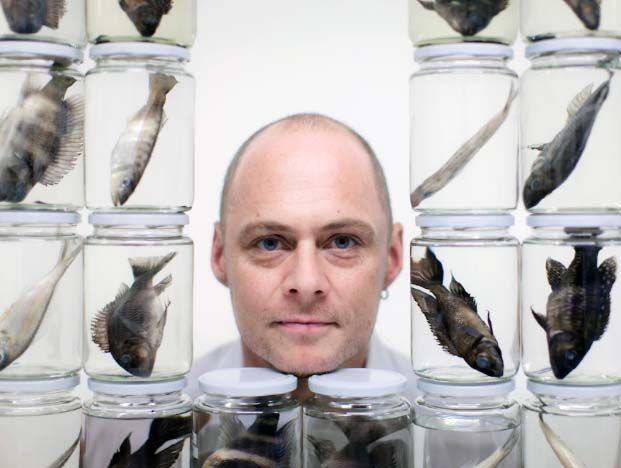 Universität Basel , DUW
Prof. Walter Salzburger
Vesalgasse 1
CH - 4051 Basel
Schweiz
Tel: +41612070303
Fax: +41612070301
[Translate to English:]
Our research is currently supported by...

Previous grant sponsors were...
[Translate to English:] Media
[Translate to English:]
Media
In the news... (selection)
On the radio...
Artenvielfalt: Grenzen im Tierreich. DRadio Wissen (D), 2012/01/12, edited by Katrin Zöfel
Hörpunkt: Charles Darwin. Schweizer Radio DRS 2 (CH), 2009/02/02, edited by Odette Frey;check the drs2darwin.blogspot
Doppelpunkt: Die Kaulquappe in uns. Schweizer Radio DRS 1 (CH), 2008/06/12, edited by Karin Frei
On TV...
Einstein: Fische mit Frostschutz. Schweizer Fernsehen (CH), 2012/03/22, edited by Sandra Odermatt
Einstein vom 22.03.2012
Einstein: Darwin und die Evolution. Schweizer Fernsehen (CH), 2009/02/12, edited by Catrin Hofstetter
Audio CD...
Jaspers, Portmann, Barth und Reichenstein (mit Kommentaren von Anton Hügli, Walter Salzburger, Georg Pfleiderer und Daniel Häusslinger). Merian Verlag (CH), 2010, edited by Matthias Buschle
Publications
2017
2016
2015
2014